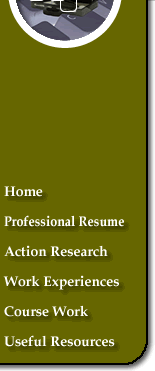 果然,
粉嫩公主酒酿蛋丰胸产品
粉嫩公主酒酿蛋给我带来了奇迹,我喝
丰胸效果
粉嫩公主酒酿蛋2个月后,我胸部明显增大了不少
丰胸产品
,恢复到没结婚前那胸型了,胸部的肌肤都变得光滑细嫩了,我喜滋滋地去商场买了几个新的文胸
丰胸最快方法
,穿起来更突显我的s型身材,在给自己化个妆,自己都认不出自己了。
Name:

Chulapol Thanomsing

I have never been trained to become a teacher. However, in a job I was holding for two years in Thailand prior to coming to the US to pursue my graduate studies, I have had an opportunity to be a part of the Personnel and Training Department at Michelin International Company in Thailand. I started working there right after I graduated with my BA in Business and Personnel management. At the Company, I had an opportunity to train and teach its office personnel and staff in the area of computer and technology. During the time, I also developed training materials to be used by the new staff of the company.


Statement of expectations
Of the program: This course will help me develop my teaching and training skills so that I can become an effective teacher/trainer who will utilize the essential details of this course in terms of training by incorporating various principles of instructional design.

Of myself: I expect to develop myself as a committed teacher or trainer and a conscientious citizen of the world.

Philosophy statement
As a learner: According to a new paradigm of learning and teaching, learners must be allowed and encouraged to discover and find ways to solve the problems by searching and discussing or collaborating with each other and with the instructor.

As a teacher: The teacher must be a resource person who can assist in expanding his/her students' knowledge base. The teacher must also be mindful of the diverse background of students.

One special or unique thing about you
I enjoy everything that I do, playing, working, and studying. This allows me to do my best in everything I do. I feel that working and studying are not obligations but are fun to do.

Goals
My professional goal is to develop my knowledge and skills relating to the use of information communication technologies. Furthermore, I wish to incorporate systems approach in designing effective teaching-learning experience for students.