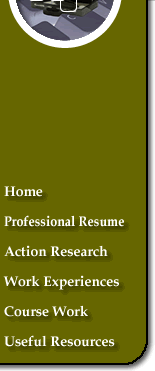 Online Education for the Sense of Community and Students' Attitudes
Chulapol Thanomsing

Master of Education in Teaching and Learning

Spring Semester 2004
Abstract
Technologies have gained great popularity in primary and secondary education. Computers and the Internet have been playing more roles in terms of producing an online course to support students since their time and distance may not be conducive to attend class. Most of online students are participating in the online education because their time and distance do not allow them to easily attend classes. Their scheduler and geographic barriers can be accommodated through online education.
Students increasingly expect to participate in the online education while they are working in their office or doing favorite things at home. In addition, students will be able to benefit and improve their academic career by using electronic and online resources available. Online graduate students in Lock Haven University of Pennsylvania were given the Online Education Survey via e-mail containing link to the online survey. Their decision whether or not to participate in this study is voluntary.



Introduction
We might have already seen a number of changes in the higher education sector which have obtained the non-traditional education such as, rapid growth in a number of online students, teachers, and courses. This latter change has been significant within the development of online education. Much effort and money has been spent in making technologies available for supporting an online course or distance education and a demand of non-traditional students which is rapidly increasing.
According to the general concept of online education, an online course can benefit students as well as teachers in terms of the removal of geographic barriers. Recently, many students and teachers in the United States work in locations that are great distances away from college and university, and cannot easily commute or attend class.
So, are there benefits to an online course other than just the removal geographic barriers? I would like to study other benefits of an online course to learning and teaching processes. The purpose of this study is to determine if online education is able to create a sense of community and provide positive student attitudes.



Literature Review
My action research focuses on the benefits of an online education course for creating a sense of community and enhancing positive students' attitudes. After exploring several resources regarding this topic, I would like to examine the main idea and gain some perspective of online education.
Recently, technologies have gained great popularity in primary and secondary education. Computers and the Internet have been playing more roles in terms of producing an online course to support students since their time and distance may not be conducive to attend class. Therefore, an online course can benefit students in terms of the removal of geographic barriers. Teachers will also be able to gain benefits from an online course. Recently, many teachers in the United States also work in locations that are great distances away from colleges and universities, and they cannot easily commute or attend class.
Online education is known as anytime and anywhere learning. Learners and teachers can easily participate in classes whenever and wherever they are available. However, teaching and learning through the online process still have to be as effective as traditional classrooms. Students who are thinking to enroll in online courses will have the same question in their mind: "Are the online courses as effective as classroom sessions?" The answer varies depending on many factors just like in traditional classrooms. The online education may be and may not be effective for students and teachers. The Distance Education Department of Colorado University provides the questionnaires for students who are interested in registering online courses to give them an idea whether or not online courses will fit for them [1]. Some researches also provide good characteristics of online learners and teachers such as good study habits, time management skills, effective communication skills, and being responsible and accountable for learning and teaching [10].
Recently, it is estimated that the online learning market is growing 40 percent and generating $1.75 billion annually, according to the Boston-based research firm Eduventures [9]. The online education is focusing on non-traditional working adult students. "The model is based on flexibility and convenience," says Seam Gallagher, an analyst with Eduventures [9]. On the other hand, the traditional students also would like to take advantage of the flexibility and convenience from enrolling in online courses.
Administrators of educational institutions should ask themselves "Does the online education succeed in the retention rate comparing to the traditional classroom?" According to Prof. Jim Lengel at Boston University College of Communication, "…other studies suggest that online courses suffer a much higher dropout rate than classroom courses" [7]. However, eCollage has found that online retention rates are higher than traditional classroom rates among its sample clients. Therefore, comparison of retention rates between the online education and the traditional classroom is still inconclusive because there are not many studies done regarding retention rates [9].
As the characteristics of online education which have many resources on various web-sites, more reading, and more writing, it is believed that people will pay more attention to detail and get to the meat of the subjects. Indeed, almost one-third of same academic leaders expect that learning outcomes for online education will be superior to face-to-face instruction in three years, and nearly three-quarters of them expect learning outcomes for online education to be equal t or better than face-to-face instruction., according to a survey released last month by the Sloan Consortium, a group of colleges dedicated to improving the quality of online education [11].
Most of the materials provided by teachers in online courses are from online resources. Only some of the required resources are books or papers based on resources will be recommended. That means the online students will be encouraged to discover various rich learning sites. Most educations agreed with this power of online resources. By exploring and discovering online, students and teachers will benefit as following:

It can break the isolation of typical classrooms. Your students [and you] can reach out to people and to learning opportunities from all over the world.
It can allow you and your students to experience people, places, and activities not available in other ways (for example, Mars ... up close and personal!)
It can make learning more enjoyable and engaging.
It can put the student in the driver's seat while teachers provide the "map" to the desired destination.
It can allow you and your students to be mentored and to mentor others.
It can encourage your students to provide service to your community and to those in need, near and far.
It can allow you and your students to be active global citizens, participating in "history in the making."
It can provide relevant, real-life experiences for tomorrow's citizens.
It can level the playing field for adults, children, ethnic groups, gifted students, disabled learners, and people of different cultures and socioeconomic backgrounds [5].
The participation in online education can also create the positive effects for students and teachers as the face to face classrooms do. According to "Vision of online projects dance in my head" (1998), online education can establish collaborations, data collection or exchange, mentoring projects, vicarious adventures, and events. Collaboration in online courses will be able to provide an involvement of both single student and teams from diverse locales. For group analysis, data collection can be used to share with each other in online courses. Mentoring projects in online courses can occur within the interpersonal exchanges between more or different experienced members and others or professional and amateur members. The online adventures will be thrilling and provide background context for in depth studies. Lastly, the online events will help create self-directed learners and active learning [5].
The article, "Psych Students Learn More Through Distance Ed But Are Less Satisfied" of the Chronicle of Higher Education, became one more entry into the ongoing debate over the quality and efficacy of online learning (Carr, 2000) [6]. From some studies regarding students' attitudes to online teaching and learning, "results suggest that students emphasized the importance of flexibility, good communication and interaction. Students tended to differ in their attitudes toward asynchronous communications with some highly appreciative of the time it offers for thoughtful communication and the ability for all to voice opinions; others miss the immediacy of face-to-face communication" [6].
The positive attitudes toward asynchronous communication in online courses are believed to be able to enhance students learning ability. This kind of communication typically does not take place in "real time." "So every participant has a real opportunity for writing in a more considered way than she could speak in a tutorial. She can edit, correct, expand and revise her statements before electronically committing them to discussion" [2]. Students also feel freer to state their own opinions, including disagreeing with others [6]. Students who are shy or less verbal in participations can be given an equal to share their ideas [2].
On the other hand, asynchronous communication cannot provide physical interaction as face-to-face does. It can isolate students and teachers. One student said "Online classes are great, but not for me. You still haven't captured the teacher-student interaction that I got in the classroom." [2] The lack of writing and typing skills may be the main barriers and frustrations for communication within online classes.
According to some analysts, communities in online classes can never be considered as communities because they cannot reproduce the role and significance of communities just like physical communities do. However, the report "People Can Create a Sense of Community in Cyberspace" believes that some Internet groups can be considered communities. When scholars talk about virtual communities, they are often talking about "communities of interest" [8]. Communities of interest have existed for centuries but are widely acknowledged to have become more significant as industrialization and urbanization began disrupting agrarian lifestyles. The industrial revolution reduced people's dependence on their neighbors, increased their mobility, and expanded their social contacts. All of these factors contributed to new patterns of community networks built on something other than a shared place [8]. These all can prove the awareness of a sense of belonging and social identity in online communities.
Most educators begin to realize that working in online education is not really different from working in face-to-face classroom. As a new concept so-called "learner-centered" is widely introduced in teaching and learning world, students need to be given more active roles in their learning. "It's true in traditional classes, and it's more true online because you don't have face-to-face time", says Charles Dziuban, director of the Research Initiative for Teaching Effectiveness at the University of Central Florida [3].



Methodology
Subjects were selected from full online graduate courses regardless of gender, ethnic, or age. Subjects must be participating in the online graduate course(s) at Lock Haven University in the spring of 2004. Online graduate students will receive an email requesting their participation in a study to investigate the sense of community and student attitudes in online education. The email will include an implied consent form and a link to the survey for those wishing to participate. Subjects' participation in this study is voluntary and will not affect their standing at Lock Haven University.
The online questionnaire was created to encourage online graduate students to easily access and participate. As it is the online questionnaire, the survey will be accessed anonymously from the link provided in the email, and no names or other personal identifiers were requested on the survey. The results were deliberately evaluated and summarized along with analysis of related literature.



Analysis of Data
The Online Education Questionnaire was sent to 188 subjects who were online graduate students of Lock Haven University of Pennsylvania according to eCollege's survey tool. According to the methodology section, they would get a message containing a consent form which had an active link to the questionnaire located at the end. Students could freely decide whether or not they were going to participate in the questionnaire. It would be available and accessible online for 5 weeks. However, due to the technical difficulty of eCollege's survey tool, those who were willing and decided to participate were unable to access the questionnaire page during the first couple weeks.
Due to the technical difficulty at that time, the online questionnaire had been recreated and moved to Lock Haven University's server instead. The message containing an instruction and a link to the consent form was re-sent to subjects. Subjects would have only two and a half weeks in order to complete the questionnaire. After that period, there were 38 respondents deciding to participate in this questionnaire.
The questions created in the questionnaire were composed from 4 different types of question. They were supposed to provide kind of answers such; subjects' demographic, subjects' satisfaction of online course involvement, subjects' satisfaction of online communication, and subjects' attitude in the online course.
First, the population of respondents in this study indicates that the majority of respondent [71.05%] was female. [Appendix 1; Table 2] The results also found that most respondents were between mid-twenties to mid-thirties [68.42%] and Caucasian [89.47%]. [Appendix 1; Table 3 and 4] The results found that most respondents were enrolled in a part-time school [72.97%] as they were a target student for online education who would like to pursue in a higher education alongside with working and taking care of family. [Appendix 1; Table 5] When asked about respondents' GPA, 91.43% of respondents earned greater than 3.0 GPA as a requirement of program. [Appendix 1; Table 7]
Second finding is the subjects' satisfaction of course involvement. From findings, respondents mostly accessed their online courses 3-4 times a week [57.89%] or daily [31.58%]. [Appendix 2; Table 3] When asked to rate themselves the level of their involvement, 97.22% indicated that they were involved [61.11%] and very involved [36.11%]. [Appendix 2; Table 4] When asked to indicate how well course procedures and assignments could support online education objectives, most of their answers were "Excellent" [51.35%] and "Very excellent" [35.14%]. [Appendix 2; Table 6] The answers regarding the amount of reading and writing in their online courses found that about 60% considered it as appropriate, while about 29% felt that it was heavy. [Appendix 2; Table 8] When asked about satisfaction of their online courses, most respondents felt; satisfied [61.29%] and extremely satisfied [38.71%] with not being in a traditional classroom; and satisfied [42.11%] and extremely satisfied [50.00%] with the quality of their courses. [Appendix 2; Table 9]
Thirdly, 34.21% of respondents spent only 1-2 hours a week to communicate socially with other students and/or instructor. The other [23.68%] spent 3 hours and more. On the other hand, there was other 23.68% of respondents usually not communicating socially at all. [Appendix 3; Table 2] The follow-up questions asked to indicate satisfaction of respondents showed that most felt neutral, satisfied, and extremely satisfied; with the socialization of the online course [89.48%], with the work in the group activities [97.3%], and with the amount of contact between you/other students and instructor [84.22%]. [Appendix 3; Table 3]
Fourthly, by far the percentage of respondents feeling that they were very active and professional [28.95%], and active and professional [57.89%] were found as the largest population. [Appendix 4; Table 2] When asked about how effective the teaching and learning in the online course was, 84.21% of respondents answered that it was effective [52.63%] and very effective [31.58%]. [Appendix 4; Table 4] The range between 75% through 94% of respondents felt that they were; satisfied [50%] and extremely satisfied [34.21%] with their ability to apply the knowledge and skills from the online course, satisfied [50%] and extremely satisfied [44.74%] that they received at least one specific skill or tool that would enable them to become more effective in their field, satisfied [47.37%] and extremely satisfied [42.11%] with the materials they had been provided, and satisfied [49.95%] and extremely satisfied [32.43%] that the online course changed their behavior and enhanced their effectiveness in their learning process. [Appendix 4; Table 5] When asked whether or not they would recommend online learning to others, about 94.59% would do. [Appendix 4; Table 7]



Conclusion
The results found that students' satisfaction of online course involvement was mostly positive. Online graduate students of Lock Haven University were obviously satisfied of being in the online learning. Although some of them were feeling that the amount of work was a bit heavy, the online learning and quality was able to provide the appropriateness and quality to their needs and satisfy them with not being in a traditional classroom as their time was not conducive. Students also felt that taking such courses enabled them to be more involved and provided them course work which could support the objective of the course. However, there were some comments concerning the communication, interaction, and feed back such as;
"I think there needs to be more interaction with the professor as far as keeping us updated."

"I like the set up of the on line course. I have no recommendations."

"…I would also list prominently the beginning and, especially, the end date of the course on the page that appears every time the course is accessed. Without having face-to-face communications, it is too easy to "lose" the end date and have to struggle to catch up when that date appears..."

"I felt there should have been more communication from the instructor as well as I am somewhat dissatisfied that we have no grades and are half way through the course. Especially in the first required courses when it is a first graduate experience for many, early grades would be appreciated so we know if we are doing things correctly."

[Appendix 2; Table 10]
According to the Creating a sense of community around a website, a community of people usually has most of these characteristics: shared interests, shared values, shared problems/enemies, mutually supportive, intimacy and physical face-to-face interaction at specific times [13]. A virtual online community shares most of these characteristics except the last [13]. The results also found that number of hours that students spent on socially communicating in one week was low. Yet, learning in online graduate courses is concerned with sharing materials and support, intellectually discussing, and communicating about the same knowledge, it can produce some significant characteristics of community. Nonetheless, regardless of motivation to share, discuss, and talk, students may be unable to develop the sense of community. Typically, students who are satisfied learning or doing something will also be willing and motivated to participate in any activity effectively. Most of online graduate students of Lock Haven University were found that they are satisfied with: the communication of the online course, the socialization of the online course, the work in the group activities, the participation in the discussion, and the amount of contact between you, other, and instructor according to the results found. Unfortunately, some students made comments about the down side of the sense of community in the online course, such as;
"Lack of student interaction and ability to meet new people. Some professors are slow at responding to questions."

"…Professors not answering e-mails promply…"

"Live interaction is completely missing.....for phychological purposes it may be needed for some your direction in some cases is less guided and your role becomes compromised."

"At times I do feel a little disconnected from the other students."

[Appendix 4; Table 8]
The result of the attitude of online graduate students of Lock Haven University in the online course were found that most of them were really satisfied learning such course. They also had a positive attitude of being involved in the online course. Most of them felt that they were active, professional, and enthusiastic when they were learning online. From the students' comments, accessibility and flexibility of the online course are still the major strengths of an online course as it is originally a main idea of online education.
"Convience is a major strength. I work 40+ hours a week and I am involved in an autism program so accessing these classes when time is suitable to me is a major strength. Without online courses I am not sure if I could attend school right now. I still feel as if I am getting as well as an education as I would in a classroom."

"Complete the course at my convenience. Professor availability was great Learning process was very good flexability"

[Appendix 4; Table 8]
The other strength was that online positively changed the learning process such as;
"assigned work can be completed at your own convenience you ability to teach improves because of your own role in online courses is reversed---you become the student and teacher"

"I feel that the major strength is that it doesent focus on lecturing and other such teaching techniques that are used in face to face classes. Also a great strength of online classes is learning is done by the students."

"you can study as your schedule permits! easy access to additional research as needed; can copy, cut & paste notes as you read making it easier to compose follow up papers"

[Appendix 4; Table 8]
Students strongly agreed to recommend others, would they consider taking the online course. The reasons were stated such as;
"Definitely.This was a great learning experience and I implemented many theories in our program. I learned a great deal and satisified with my work."

"I think online learning has both negative and positive aspects to it. I recommend it to certain individuals but also discourage it for others. It all depends on the needs and abilities of the person I am discussing it with."

"I recommended online learning to others because it is nice for those whom work full-time, have children, etc. Also, I think you learn just as much online as you would from being in the classroom. Plus, there tends to be more student/instructor interaction than I received when I was in the classroom."

"Because it gave me the ability to think outside of the box."

"due to the convenience and the fact that the more classes you take online the more you get used to them. They are an effective tool for learning, even though you miss the personal interaction as in a regular classroom atmosphere."

"The flexibility outweighs any other factors and the information is up to date and appropriate."

"It is a unique way to learn course material and is a way to better engage in the learning process."

"Availability of courses, appropriateness of course content. Time works for you instead of against you, if you have a full-time job."

[Appendix 4; Table 9]
Finally, this study should be used on a broader scale to provide helpful results and information in order to develop and enhance the online education programs. Diverse population could add credence to the conclusion of this study. A larger population would also be able to make this study more credent.



Acknowledgement
Special thanks and acknowledgement goes to Dr. Marianne Lovik-Power and David Staton. They made contributions to the basis for this paper.



Reference
[1] Distance Education Questionnaire. Retrieved November 8, 2003 from the World Wide Web: http://www.colorado.edu/slhs/tiem.online/distanceed-questionnaire.html

[2] Blake, N. (February, 2000). Tutors and Students without Faces or Places. Journal of Philosophy of Education, 34 (1), 183(16). Retrieved November 8, 2003 from EBSCOhost online database (Academic Search Premier, 3344106)

[3] Boser, U. (October 20, 2003). Working on What Works Best. U.S. News & World Report, 135 (13), 58(4). Retrieved November 8, 2003 from EBSCOhost online database (Academic Search Premier, 11058058)

[4] Broadbent, B., Cotter, C. (2003). Evaluating e-learning. Retrieved November 8, 2003 from the World Wide Web: http://www.e-learninghub.com/articles/evaluating-e-learning.html

[5] Donlan, L. (January/February, 1998). Visions of Online Projects Dance in My Head. Multimedia Schools, 5 (1), 20(5). Retrieved November 8, 2003 from EBSCOhost online database (Academic Search Premier, 111460)

[6] Goldsmith, D. Ph.D. (2001). Communication Humor and Personality: Student's Attitudes to Online Learning. Retrieved November 23, 2003 from the World Wide Web: http://www.ctdlc.org

[7] Lengel, J. (2003). Online Education: What's the Buzz?. Retrieved December 10, 2003 from the World Wide Web: http://www.powertolearn.com/articles/teaching_with_technology/ online_education_what's_the_buzz.shtml

[8] Papadakis, M. C. (September, 2003). People Can Create a Sense of Community in Cyberspace. Retrieved November 8, 2003 from the World Wide Web: http://www.sri.com/policy/csted/reports/sandt/it

[9] Roach, R. (October 24, 2002). Staying Connected. Black Issues in High Education, 19 (18), 22(4). Retrieved November 8, 2003 from EBSCOhost online database (Academic Search Premier, 8530825)

[10] Saragina, P. (1999). Creating an Online Learning Community. Retrieved November 23, 2003 from the World Wide Web: http://makahiki.kcc.hawaii.edu/tcc/tcon99/papers/saragina.html

[11] The Sloan Consortium, A Consortium of Institutions and Organizations Committed to Quality Education. (September, 2003). Sizing the Opportunitiy, The Quality and Extent of Online Education in the United States, 2002 and 2003. Retrieved December 10, 2003 from the World Wide Web: http://www.aln.org/resources/sizing_opportunity.pdf

[12] Solloway, S. G., Harris, E. L. Create Community Online. Retrieved November 23, 2003 from the World Wide Web: http://www.educate.edu/ir/library/html/erm99021.html

[13] Creating a sense of community around a website. Retrieved April 21, 2004, from A Ministry of Gospel Communications Web site: http://www.gospelcom.net/guide/resources/build-community.php



Appendices