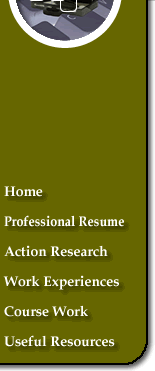 Back to Course Work Main Page
| | |
| --- | --- |
| Course: | Research Studies 2 |
| | |
| Code: | EDTL 694 |
| | |
| Semester: | Spring 2004 |
| | |
| Instructor: | Dr. Marianne Lovik-Powers |
Reflection
I have also learned about the Teaching Perspectives Inventory. It reminded me to be concerned about all aspects of effective teaching. In order to be a good teacher, I must improve my teaching quality in those five perspectives: Transmission, Apprenticeship, Developmental, Nurturing, and Social Reform. My result has urged me to carefully think whether or not I am lacking of any perspectives. It is important for professional teachers to take some of their time to reflect on their practices. Reflecting the practice provide opportunities for me to expand my knowledge and accommodate those five perspectives. As the reflective practice calls for ongoing exercise, I, as well as other educators, will continually improve the abilities in planning instructions.
Through this course, I have learned to execute and report classroom based, action research. I have also been provided the opportunity to develop a professional portfolio. My personal value of portfolio development is an excellent tool for maintaining my performance records, educational growth, and experiences related to the field of my interests. Additionally, portfolio enables me to keep track of my growing needs in which I can accomplish my professional plans. I can use my course work as a tool to help me enhance the quality of my classrooms. As there are references and resources included in my course work, I will be able to utilize them to construct an effective instruction and classroom.



Books
Geoffrey M. (2003) Action Research: A Guide for the Teacher Researcher (2nd Edition). Prentice Hall.
Parker J. P. The Courage to Teach. Jossy-Bass Publishers
Unit 2 - Courage to Teach
Unit 3 - Putting It Together
Unit 5 - Reflective Practice