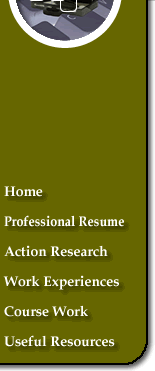 Back to Course Work Main Page
| | |
| --- | --- |
| Course: | Research Studies 1 |
| | |
| Code: | EDTL 692 |
| | |
| Semester: | Fall 2003 |
| | |
| Instructor: | Dr. Marianne Lovik-Powers |
Reflection
I have learned to work with principles, concepts and techniques of Action Research. Action research is the way of researching and acting at the same time. It is also learning and doing. However, it is not only just researching (learning) and acting (doing); it has to be done by self-reflecting. Moreover, it is also a cycle process that allows me to explore and use my own reflection to improve my profession. I have to analyze what happened and what different I should do along with researching and acting. Through the action research, I will be able remove the gap between what is going on now and what should be done to enhance my teaching and learning.
This course provided me the opportunity to gain an insight about becoming a critically reflective teacher. By reading Brookfield's book, I have gained insightful information about how to develop yourselves, your students, and your colleagues to become critically reflective thinkers. It is not only to be able to reflect and to be reflected from four critically reflective lenses, but also to agree and to be willing to learn something new and difficult on regular basis as mean of gaining new insight into teaching process.
Becoming a professional educator, teachers need to enhance their qualities of teaching. The question is "How can teachers develop their teaching to become a professional educator?" Utilizing the action research and becoming critically reflective teacher are able to help everyone, not only those in educational careers, solve this problem. The action research process is to gather the information needed to solve the problems and analyze that information to develop teaching knowledge and skills. The critically reflective teacher is one who emphasizes the importance of learning from her/his mistake by listening to not only from self, but from outside as well.



Books
Stephen D. Brookfield. Becoming a Critically Reflective Teacher.
Geoffrey E. Mills. Action Research: A Guide for the Teacher Researcher.
Unit 5 - Literature Review