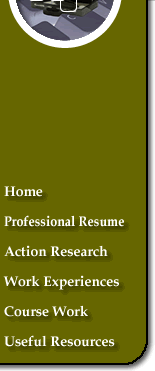 Back to Course Work Main Page
| | |
| --- | --- |
| Course: | Designing Assessment Using Performance Standards |
| | |
| Code: | EDTL 604 |
| | |
| Semester: | Spring 2003 |
| | |
| Instructor: | Dr. Marianne Lovik-Powers |
Reflection
In the current society, many parents, communities and business leaders have been holding expectations for schools and teachers in terms of their children's education. Teachers are expected to teach students in what is deemed appropriate for all students. Therefore, the use of standardized testing in schools is rising, flowing into the task of teachers, students, and parents and changing the shape of education. There are many models of curriculum that are being used to develop and prepare students to meet or exceed instructional standards that specify what students should know and be able to do. This course provided me an opportunity to compare and contrast many curriculum design models such as: Standards-based Curriculum, Curriculum Based Assessment, Backward Design, and Curriculum Access and Universal Design for Learning.
I have learned a lot a standards-based environment and understood that design and analysis of assessments and rubrics can be employed in a standards-based classroom. This class provided the meaningful knowledge of teaching and learning in a standards-based environment.



Books
Glatthorn, A.A., Bragaw, D., Dawkins, K. & Parker, J. (1998). Performance Assessment and Standards-Based Curriculum: The Achievement Cycle. New York: Eye on Education.
Unit 1 - Comparing Traditional and Standards-Based Grading Practices
Unit 2 - State Performance Standards
Unit 3 - National Performance Standards
Unit 4 - Differentiated Instruction: Development and Practice
Unit 5 - Curriculum Design Models and Practice
Unit 6 - Standards-Based Assessment
Unit 7 - Assessment Rubric
Unit 8 - Designing Standards-based Instruction
Unit 9 - Assessing Standards-based Instruction