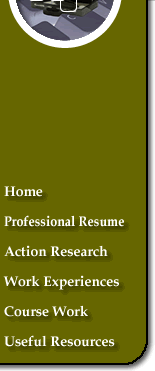 Back to Course Work Main Page
| | |
| --- | --- |
| Course: | Teaching and Learning in an Information Age |
| | |
| Code: | EDTL 601 |
| | |
| Semester: | Fall 2002 |
| | |
| Instructor: | Dr. Edward Jensen |
Reflection
I have learned that the change of learning process from integration of the Internet in the classroom environment comes along with the paradigm shift of teaching and learning. The main differences between these changes are the role of teachers, students, and institutions. The students will be learning by doing. The key is that when students are doing something, they are typically able to remember the subjects more than when they are reading, listening, seeing, or saying. The teachers will be teaching by collaborating with students that can develop classroom environment to be more interesting. The institutions will also be the efficient education provider by developing the system for new process.
This course provided me an opportunity to explore that integrating the internet will enable teachers to easily find the updated and appropriate information to improve their teaching process and develop their students' learning. However, teachers should understand the possible impact of this resource on their students and institution. In addition, teachers should have to have the abilities to integrate the Internet to enhance classroom environment, teaching and learning abilities, and life-long learning skill. Concerning the information used in the classroom, teachers should update and find new sites that are more effective by themselves, discussing with other teachers, and even sharing with their students.



Unit 3 - The Internet – The Best Thing Since Sliced Bread?
Unit 4 - The Internet – Are You Sure You Want the Kids There?
Unit 5 - Learning Activities on the Web
Unit 6 - Learning Beyond the Walls and Borders