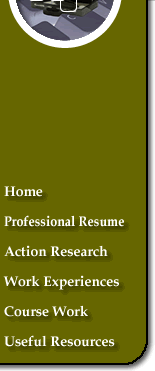 Back to Course Work Main Page
| | |
| --- | --- |
| Course: | Introduction: Inquiry and Educational Change |
| | |
| Code: | EDTL 600 |
| | |
| Semester: | Spring 2003 |
| | |
| Instructor: | Judith A. Yoho |
Reflection
From this course, I have learned to develop my professional development plan. A professional development plan would be beneficial for me to make progress in my career and to provide good opportunities. To develop a professional development plan, I could analyze my goal and determine the way to reach my goal. I could design the plan and activities to enhance my professional career growth in the future. I also have learned five propositions for being a professional teacher and the strategies of a successful learner in both the traditional and online learning. A professional development plan could be used to help the learner or even the teacher to develop and to be professional as the learner and teacher.
I have also learned to develop and design a research project. Developing a skeleton project design can dictate to me the procedures used in my research project. Reviewing the Institution Review Board for the Protection of Human Subjects helps me to understand the significance of involving human subjects. Researches that are approved by the IBS will be valid and reliable as a reference. So, everyone who wants to do research must be approved prior to involvement on human subjects.
To develop good research, researchers must be able to evaluate other research. When they know the criteria to evaluate validity and reliability, they will be able to develop and design their skeleton research project that is valid and reliable. In process of studying, if researchers are going to do research that involves the use of human subjects, they need to submit their research project to the IRB for review and approval. It is responsible for researchers and the IRB to assure that all ethical issues have been fully addressed in the protection of human subjects.



Books
James H. McMillan and Jon F. Wergin. Understanding and Evaluating Educational Research, 2nd. ed. Pearson Education, Inc. 2002. ISBN number 0-13-027167-5.
Unit 4 - Ethics & Education