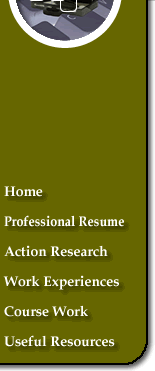 Back to Course Work Main Page
| | |
| --- | --- |
| Course: | Curriculum Issues in Alternative Education |
| | |
| Code: | ALTE 616 |
| | |
| Semester: | Spring 2004 |
| | |
| Instructor: | Dr. Jessica Bowman |
Reflection
I have learned a lot about an introduction to curriculum issues in alternative education settings. Every topic in this course has been provided me the meaningful knowledge and understanding of instructional design in the classroom. Through this course, I will be able to prepare the effective classrooms and environments which can positively promote success for at-risk students as well as regular students in the school setting. In addition, this course also taught me about the best practices that can positively affect curriculum, instruction, and assessment in order to help students succeed in the State and National Standards.
This course also provided me the opportunity to learn and explore about the social skills. This issue is very important for me as an educator to understand the positive effect of teaching social skills as part of the curriculum. Teaching social skills as part of the curriculum enables students to learn and understand a set of skills needed in order to manage any life tasks successfully, such as learning, communicating effectively, and building relationships.



Books
Tomlinson, C. (2001). How to differentiate instruction in mixed-ability classrooms. Alexandria, VA: ASCD.
Unit 1 - What's Curriculum?
Unit 3 - What's Curriculum Mapping?
Unit 4 - What's Differentiated Instruction?
Unit 5 - Instructional and Management Strategies
Unit 6 - Curriculum-Based Assessment
Unit 7 - Using Performance-Based Assessment
Unit 8 - The Theory of Backward Design
Unit 9 - Technology Integration
Unit 11 - Learning Styles