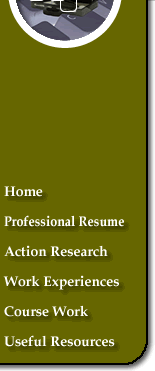 Back to Course Work Main Page
| | |
| --- | --- |
| Course: | Alternative Education: An Introduction to Theory and Practice |
| | |
| Code: | ALTE 615 |
| | |
| Semester: | Fall 2002 |
| | |
| Instructor: | Nate Hosley |
Reflection
This course taught me that teachers could utilize choice theory in order to find the best and appropriate ways to develop the classrooms, instructions, students' learning, and teaching processes. Understanding and controlling ourselves is first thing that teachers should be able to do before incorporating choice theory into classroom. Choice theory descriptions include much information that is easily understood.
Additionally, learning about the five needs that drive everyone enables me to understand one another. Then, we will be able to serve the students' needs and to motivate them to come to work in the class. The other that I have learned is the learning pictures in the student's head. If we can change past negative pictures into current positive pictures, students will begin to be interested in learning more than in the past.
An advantage of these theories is that I can use them to increase the student motivation, and I believe it is worth to try. I also believe that everything we have done to make school a better place for the unmotivated students will also positively affect even better for those regular students. Therefore, there is much to gain and nothing to lose by taking a look at the change.



Final Project - Program Evaluation
Unit 1 - Alternative Education
Unit 3 - At-risk model problems
Unit 4 - Characteristics of Effective Programs
Unit 6 - Theories and the Alternative Education Classroom
Unit 7 - More Theory and Alternative Education